26 May

An Interview with the 2022 recipient of the Margaret C. Howell Outstanding Achievement Award
An Interview with the 2022 recipient of the Margaret C. Howell Outstanding Achievement Award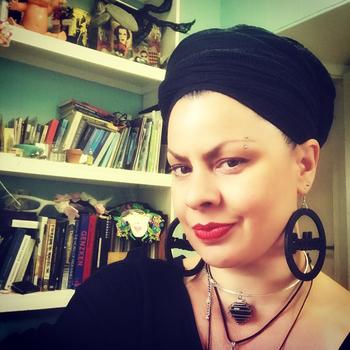 Congratulations to Jessica Kallista, adjunct faculty for the School of Art!
Read her interview below to learn about her fantastic contributions to ARIE and DEI initiatives around Mason. The $2,000 award is sponsored by the Office for DEI. Recipients reflect the hard work of our Mason community members committed to diversity, equity, and inclusion. Learn about the award's nomination criteria.
What is your affiliation with Mason and how long have you been a Patriot?
At heart, I have been and always will be an incredibly community-minded person, and Mason is no exception. I've been affiliated with Mason since I arrived in 1997 as an MFA Poetry student, and each year that relationship seems to change and grow. I received my MFA from Mason in 2002. Since 2014, when I founded Olly Olly, an alternative art space in Historic Fairfax, I've worked with a number of Mason students, faculty, and alumni—providing a space for them to launch exhibitions, hold poetry readings, and engage in creative community. In addition to being a member of Mason's School of Art faculty—teaching Critical Theory and Aesthetics—I also served as Gallery Director of Mason's Buchanan Partners Art Gallery at Hylton Performing Arts Center from 2017-2019. I'm currently curator and co-moderator of CVPA's Kritikos Anti-Racist Reading Group, and I serve on CVPA's DEIA Senior Advisory Council. In addition, I am a Mason-parent, as two of my children are currently working towards their undergraduate degrees here at Mason. I've seen Mason grow from a much smaller University to the now 50-year-old institution we see before us today, and I can see its potential to bring diversity, equity, inclusion, and access to every member of this community.
Describe your role in the ARIE Taskforce's Research Committee and why you were interested in joining the Taskforce.
As an artist and a faculty member in the School of Art, I wasn't sure what to think of being asked to join the ARIE Taskforce's Research Committee. But Rebekah K. Hersch, one of the chairs of the committee, was a great help in orienting me towards the larger definition of research—one that is inclusive of creative activity and work—and the goals of the committee. I think that this committee's work is one important ingredient in our larger efforts in the DEIA space. The work is one more way to infuse the Mason community's culture with a foundational understanding of, belief in, and work towards an equity-minded experience for every member of the Mason community.
Describe any other ARIE/DEI related initiatives you're involved in.
I hope to bring a DEIA lens into every space I enter. The critically foundational bell hooks, who we so sadly lost last year, wrote about how the body of a professor is part of the curriculum. My body is part of the curriculum in all classes I teach and in all syllabi I create. As a Black, Queer, Autistic woman, I hope that my very existence in these spaces signals possibility to students who might not otherwise see a Black, Queer, Autistic woman as a professor, a gallerist, a curator, an artist, or policy maker. I also participate in numerous more explicitly DEIA-related activities such as the ARIE Taskforce's Research Committee, CVPA's DEIA Senior Advisory Council, and of course CVPA's Kritikos Anti-Racist Reading Group (which has been active with 7 week programs for the past 6 semesters). All of these activities are important to our overarching efforts, and I'm especially excited about our upcoming Summer program of the Kritikos Anti-Racist Reading Group, during which we will focus entirely on Black Joy. This summer's program runs from June 24 to August 5. We meet via zoom on Fridays from 1:00-2:30. All are welcome. https://cvpa.gmu.edu/events/arts-context/kritikos-anti-racist-reading-group
How has your work within the ARIE/DEI space impacted your career and/or education goals? What impact do you hope ARIE/DEI will have on the institution?
This is a great question, and my experience is that the deeper I dive into this work the more energized I feel about working for change, the more excited I am with the kinship I have found with others at Mason who are dedicated to this work, and the more clearly I can imagine the equitable future we are working to build. I can see a Mason community in which DEIA is successfully and perpetually infused within everything from the faculty to the student body to the curriculum to the ways we name, shape, resource, and support all aspects of education. And it is a beautiful future!
What advice would you give someone who wants to get involved with ARIE/DEI work?
I think CVPA's Kritikos Anti-Racist Reading Group is an amazing example. We bring people with a variety of roles within and outside of Mason together (students, faculty, staff, alumni, community members). Together we listen and respond to one another by utilizing critical thinking in community. We dive deep and question everything together. The structure of our group dismantles hierarchies and stands as a model of the world we are working to create. I would also say to remember to find and focus on Black Joy, remember to rest and recover in the kinship of others, remember that self-care precedes the ability to care for others, self-care is part of the work, and remember that you aren't alone in this work. I can't tell you how grateful I am for the people doing this work at Mason, and the strength that they give me to return again and again to this work.
Please tell us anything else you'd like to share with our readers.
Over the years at Mason I've worked in so many capacities and with multiple people in such a wide variety of roles, and what I'd want to share most of all with your readers is my immense gratitude for the opportunities, the experiences, and the relationships that the Mason community provides, each of which has been instrumental in all I've been able to create and accomplish at and with Mason. Mason continues to be an enriching environment full of vital scholarship, community, and creativity, and I know the future Mason can be even better.
Get more information on Mason's Outstanding Achievement Awards.